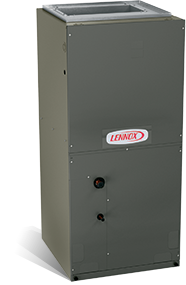 High-Value, High-Efficiency Air Handler
The CBX25UHV is a hardworking, efficient and reliable source of year-round comfort. Its variable-speed motor delivers consistent temperatures and steady, even airflow throughout your home, while the insulated cabinet reduces sound levels for peace and quiet.
Energy Efficiency
Variable-Speed Motor delivers more consistent temperatures and better humidity removal.
High-efficiency evaporator coil—provides exceptional heat transfer and efficiency
Efficient check and expansion device—ensures highly efficient operation
Quiet Operation
Fully insulated cabinet—reduces sound for quiet operation
Home Comfort
Direct-drive blower motor—delivers consistent airflow, along with a high level of comfort
Environmental Responsibility
Chlorine-free R410A refrigerant—meets the EPA's most stringent environmental guidelines Meets strict standards for 2%-or-less air leakage requirement
Reliable Performance
Antimicrobial drain pan—includes an antimicrobial agent that inhibits mold and mildew growth and is made of a durable composite material that won't corrode or rust
Durable steel cabinet—made to last with an attractive high-quality textured-paint finish
Optional electric heat—provides supplemental heat for added comfort
Sleeved Distributor Tubes—protect copper tubes to prevent leaking
Efficient Check and Expansion Device—ensures efficiency across a wide range of operational conditions. Factory-installed on the CBX25.
Flexibility
Smaller cabinet for flexible installation